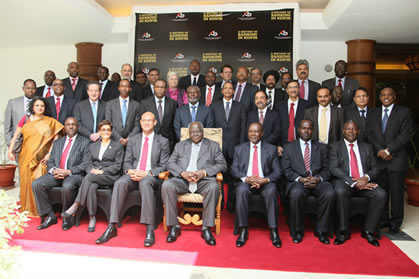 Background Information
Kenya Bankers Association (KBA) was registered as an Industry Association on 16th July 1962 by the Registrar of Trade Unions. In its formative years, the main aim of the Association was to cater for the interests of the member banks in negotiating terms and conditions of service of its unionisable employees and as far as possible standardize management practices so as to ensure harmony in the industry.
Over time, the ambition of the Association evolved to include promoting industry development and economic growth by engaging the government and sector regulator, Central Bank of Kenya (CBK). This KBA ambition was reinforced in 2012 when the Association launched its new brand and ambition statement: One Industry. Transforming Kenya.
To reinforce the banking industry's ability to be a primary driver of the economy's development aspiration, the mandate of the Association was redefined and enshrined in the KBA 2014-2018 Strategic Plan. The core focus was broadened to include lobbying and advocacy and championing industry development and innovation by coordinating the members and partnering with stakeholders on strategic initiatives.
As the umbrella body of the institutions licenes and regulated by the CBK with a current membership of 47 financial institutions, KBA continues to reinforce a reputable and professional banking sector in a bid to best support Kenyans, who entrust their ambitions and hard-earned resources with its member banks.
Leadership, Innovation, Knowledge and Ethics.
Enhancing KBA's position as the voice of banking; and an innovative leader within the financial services sector in order to reinforce the industry's ability to be a primary driver of the economy's development aspirations.
To be the voice of banks through thought leadership anchored in research and analysis. To champion industry development through innovation, advocacy and the promotion of "fair play" among banks.
KBA Structure & Governance
KBA is an association of the 47 member banks and Secretariat that is situated at International House in Nairobi. The banks constitute the General Body and are represented by their Managing Directors or Chief Executive Officers.
The KBA General Body elects a Governing Council that is comprised of a minimum of 12 CEOs who represent the members and oversee the Secretariat's operations, programs and budget.
The KBA Secretariat has a full- time staff compliment which manages day to day operations under the leadership of Chief Executive Officer, Mr.Habil Olaka.
KBA activities are managed by the Secretariat which works in consultation with the following Committees and Sub Committees:
Operations & Technical Committee
– Clearing House Sub Committee
– National Payments Sub Committee
– Credit Sub Committee
– Islamic Finance Advisory Sub Committee
Bank Fraud & Risk Committee
– Bank Fraud and Security Sub Committee
– Bank Forensics Sub Committee
– Bank IT Systems, Risk & Security Sub Committee
Legal Affairs and Compliance Committee
Finance & Audit Committee
– Tax Sub Committee
Human Resources & Ethics Committee
Public Relations Committee